On January 16, 1987, the Statfjord field reached peak production with an incredible 850,204 barrels of oil. A generation later, the total production from the North Sea giant has passed 5 billion barrels and plans to drill up to 100 new wells at the field are on the table.

Håvard Nygård, Spirit Energy's Statfjord Asset Manager said: "It's almost a cliché in the oil and gas industry, but still: big fields tend to get bigger. After 42 years of production, the plan is to continue towards 2040. Statfjord is truly an amazing field to work with."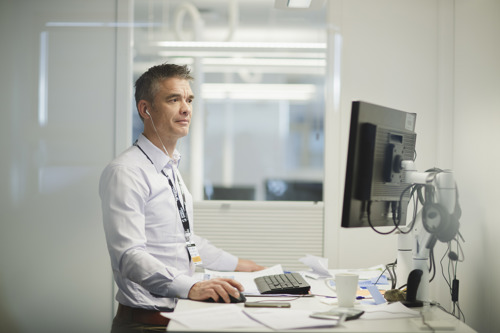 Håvard Nygård.
After 42 years of production, the plan is to continue towards 2040. Statfjord is truly an amazing field to work with.
Statfjord Asset Manager
Statfjord straddles the Norwegian-UK boundary in the so-called Tampen area in the northern North Sea – about 15% of the field is in the UK and Spirit Energy is operator for Statfjord UK, while Equinor is operator in Norway. Discovered in 1974, the field was developed with three concrete platforms known as Condeeps, which are designed to integrate drilling, production, and storage of oil, along with the extraction of natural gas.

The Statfjord A platform began production in 1979. The Statfjord B platform followed in 1982 and platform C in 1985. In addition, the field has three satellites: Statfjord North, Statfjord East and Sygna – all connected to the Statfjord C platform. Oil is transported from the field via tankers, while gas pipelines connect the platforms with terminals in Norway and the UK.

Discarded decommissioning plan
In January 2020, Spirit Energy and the Statfjord partnership announced plans to extend the life of Statfjord A to 2027 and the lives of Statfjord B and C towards 2040. In addition, around 100 new wells will be drilled.  
Håvard said: "As late as in May 2019 a press release was issued stating that the Statfjord A platform would shut down production in 2022 and that the contract for removal and disposal of the topside had been signed. More than 40 years after first oil, that would have meant that Statfjord A had more than doubled the expected lifetime of the platform. Now we go even beyond that.

"Extensive mapping of the subsurface has revealed that the remaining potential in the Statfjord area is considerable. Spirit has believed in this for quite some time and are delighted our partners share our view. Now we have an ambitious future business plan for the area."  
Around 100 new wells will help reach an ambition of maintaining the current production level from Statfjord beyond 2025. This will require considerable investment and upgrading of the three platforms.

Håvard said: "It's an ageing field. That means more maintenance work – safety always comes first. In addition, we have exploration, development, and production to handle. Luckily, the cooperation in the licence is good and we have a very strong cross-functional collaboration within Spirit. These factors are undoubtedly vital for safe and reliable operations and maximum output.
"We hold a 34% share in Statfjord and have landed a project that will create many jobs and great value for many years to come."
Money-maker
The Statfjord field is truly a money machine. The field has had earnings of more than NOK 1,600 billion (£140 billion).

Each year, 4,000–5,000 full-time equivalent jobs can be directly or indirectly linked to Statfjord – more than 200,000 since the very beginning.

Håvard said: "Although the numbers are incredible, what impresses me the most is the people, their creativity and ability to find solutions. The skills and expertise in our industry are second to none."
Turbulent start
The Statfjord field has been involved in dramatic chapters in Norwegian oil history. First, there was a dispute over who should be awarded operatorship. The Norwegian state wanted written into the agreement that Statoil (now Equinor) could take over as operator after 10 years. Chevron was a candidate, but rejected the rather unusual terms. Mobil, however, agreed to the deal and became operator in the development phase and the first years of production, but fought hard when the time came for Statoil to take over. 
 
Also, the final price tag for Statfjord A was NOK 7.6 billion (approx. £660 million), way over the original budget of NOK 1.7 billion (approx. £150 million). Newspaper headlines such as "Total Failure" and "Development Nightmare" fuelled the already heated political debate. The two other platforms at the field also suffered significant budget overruns. However, history shows that each of the three platforms paid back their development costs within one year of production.

Climate focus
Oil and gas fields tend to experience increased greenhouse gas emissions as they become more mature. However, the ambitions to reduce emissions at Statfjord are high.

Håvard said: "Towards 2030, the Statfjord partnership will realise energy efficiency measures and consolidate infrastructure to reduce absolute climate emissions from Statfjord by more than 40%. Spirit has set tough goals for greenhouse gas emission cuts and we will work purposefully to achieve them also for Statfjord.

"There is no doubt that this great field, a cornerstone asset in our portfolio, has many more successful years ahead of it."


Sources:
The Norwegian Petroleum Museum
Equinor